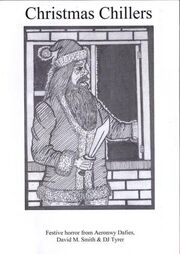 Spooky festive tale by DJ Tyrer. Published in the Christmas Chillers booklet from Atlantean Publishing.
The narrator finds himself alone in an inherited house and reading a certain play when he becomes aware of other presences in the house.
The story features a reference to the dolls Clairan and Crespian, girls names Camilla and Cassilda and a mysterious vision in a pond.
The story was partially-inspired by The Other Room by Jill Bennett which was published in Haunting Christmas Tales (1991) alongside the story Crespian and Clairan by Joan Aiken.