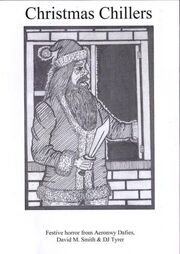 Spooky festive tale by DJ Tyrer. Published in the Christmas Chillers booklet from Atlantean Publishing.
The narrator finds himself alone in an inherited house and reading a certain play when he becomes aware of other presences in the house.
The story features a reference to the dolls Clairan and Crespian, girls names Camilla and Cassilda and a mysterious vision in a pond.
The story was partially-inspired by The Other Room by Jill Bennett which was published in Haunting Christmas Tales (1991) alongside the story Crespian and Clairan by Joan Aiken.
Ad blocker interference detected!
Wikia is a free-to-use site that makes money from advertising. We have a modified experience for viewers using ad blockers

Wikia is not accessible if you've made further modifications. Remove the custom ad blocker rule(s) and the page will load as expected.